Update Manager
Keeps your Wealth-Lab 7 Client and Extensions updated with the latest releases from Wealth-Lab (Quantacula) and Third Party Developers (TPD).
(all Extensions require a Wealth-Lab Subscription)
Note - Build 1 of the Update Manager is a beta release until further notice.
The Wealth-Lab Update Manager Extension keeps your Wealth-Lab client and Extensions updated with the latest releases from Wealth-Lab (Quantacula) and Third Party Developers (TPD).
Equipped with multiple user options, the Wealth-Lab Update Manager will:
Automatically check for Updates relevant to your installation (User defined).
Notify you of Updates and New Extensions that match your preferences.
Download available updates.
BackUp your WealthLab application folder.
Create an Install Manager to guide you through the installation process.
Create a Restore Manager to Roll Back to previously installed versions in event of an incompatibility.
Create and maintain a local repository of past versions for the WL7 Client and TPD Extensions.
As the list of available extensions grows, maintaining your personalized WL Extension Configuration can become challenging and time consuming. The Wealth-Lab Update Manager has been designed to carefully keep your system up-to-date and your past version repository organized so that you can focus on what matters most - Conducting quantitative research; developing robust and profitable trading systems; and publishing signals.
Screenshots
Get Notified & Download ALL Updates With One-Click
The Update Manager regulary checks for new updates and notifies as soon as they are available.
All-In-One Install Manager
Update your WealthLab App and Extensions at the same time with this simple to use all-in-one install manager. It's easy. Just follow the prompts.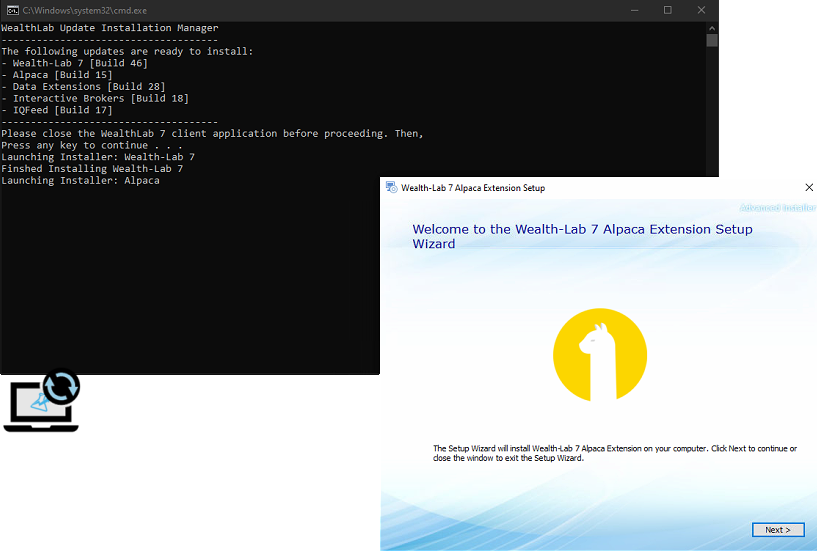 Simple, Organized and Efficient
Quickly view all Extensions by preset categories. Choose single or multiple updates to install, or simply hit the download button to download all updates in the category.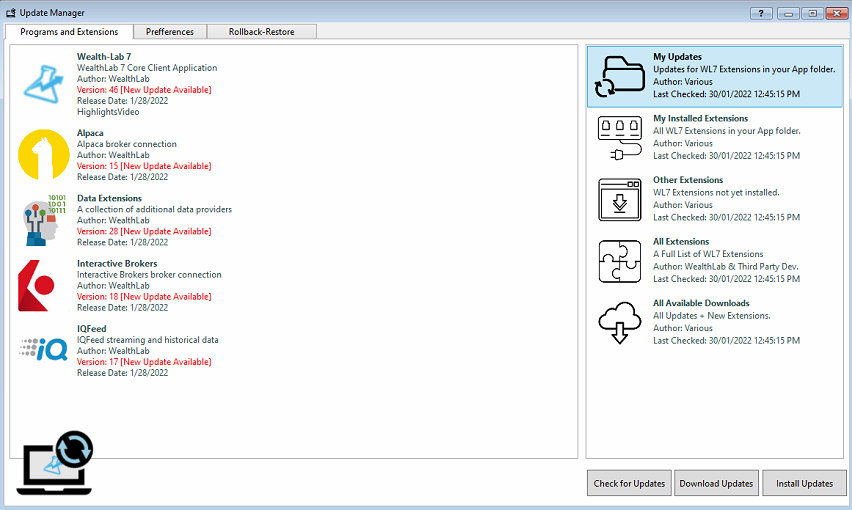 Stay in Control with Personal Preferences
Select the updates most important to you, schedule update checking, and silence notifications.
Backup and Protect
When selected, the Update Manager will backup your entire WealthLab7 Program folder before installing new updates.
Rollback & Restore Client-Extensions
Need to roll back, no problem. The Update Manager gives you multiple options to rollback and restore previous configurations.
Change Log
Wealth-Lab 7
Build 3
- 3/2/2022
Minor updates to Error Reporting process.
Up-to-date message now displays in GUI when all installed Extensions are latest version.
Minor fixes & improvements.
Wealth-Lab 7
Build 2
- 2/17/2022
Added Extension Removal Tool
Force new download of current updates when "Download Updates" is clicked by user on the Extension GUI window (Helpful if installers are corrupted)
Changed Popup Message wording to reduce confusion.
Added double-encrypted error reporting
New check for Breaking Changes that alerts user and prompt to install all available updates
Install Manager now installs WL7 Client update last to avoid possible conflicts caused by reopening WL7 while extensions are installing.
Wealth-Lab 7
Build 1
- 2/1/2022