Coinbase
The WealthLab Coinbase Extension provides historical data, streaming data, and broker connection to Coinbase Pro.
$49.95
/ Lifetime
OR included in Premium subscription
Try before you Buy! Download the Extension for a 14-day free trial before purchasing.
(all Extensions require a Wealth-Lab Subscription)
Coinbase®
The WealthLab Coinbase® Extension provides historical data, streaming data, and broker connection to Coinbase Pro. The Extension includes the following components:
A Historical Data Provider that can return 1-minute, 5-minute, 15-minute, 1-hour, 6-hour, and daily data for all crypto symbols supported by Coinbase.
A Streaming Data Provider that provides streaming updates for Coinbase's crypto symbols.
A Broker Adapter that allows you to place or route Strategy-generated orders to your Coinbase account for manual or automated execution.
A DataSet Provider that gives you two new DataSets, one containing all valid Coinbase crypto symbols, and another containing the cryptos you're currently holding in your account.
---
DISCLAIMERS:
"Coinbase" is a registered trademark of Coinbase, Inc. Fair use of the trademark here does not imply any affiliation with or endorsement by them.
The third-party data is subject to the availability of the respective provider (website) and may be delayed or inaccessible periodically due to network or technical reasons. As the data is not guaranteed to be accurate, it is your responsibility to confirm that it does not contain errors before utilizing it for any type of backtesting or trading activities. Quantacula, LLC is not to be held liable for any errors in market data or its unavailability.
Screenshots
Set Up the Coinbase API
Sign in to your Coinbase account to authorize Coinbase Pro. From Coinbase Pro(https://pro.coinbase.com/) select API from the upper right Profile dropdown and create a New API Key with a Nickname, View and Trade Perms. Copy and save the Passphrase.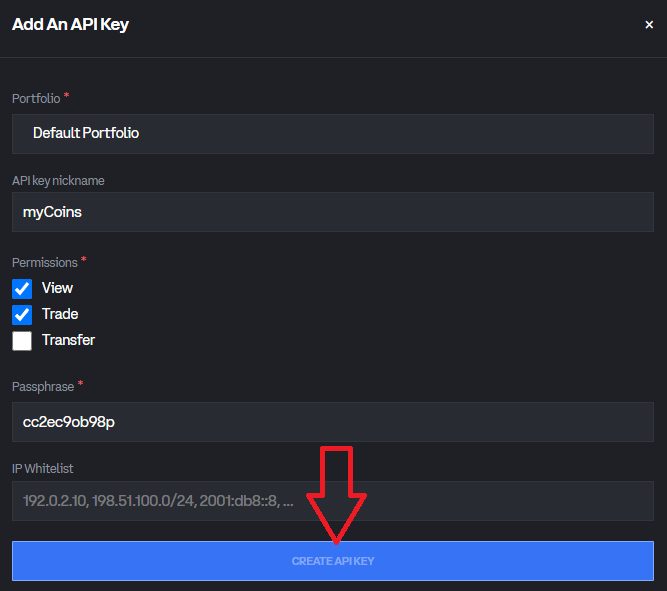 Save Your Secret
After clicking CREATE API KEY, *copy and save the APISecret*.
Almost There!
Now from the API Keys summary page *Copy and save the API Key*.

Configure Coinbase Provider in WealthLab 8
Install this Coinbase Extension for WealthLab 8. Open the Data Manager, check and select the Coinbase Provider. Enter the API Key, APISecret, and passphrase in the Coinfiguration (spelling pun intended). Connect to Coinbase!
Change Log
Wealth-Lab 8
Build 8
- 11/18/2022
Report Coinbase error messages instead of always returning "Call failed with status code 400 (Bad Request)"
Try up to 3 times to place an order rejected by Coinbase rate limiting
Enhancement: Open orders are loaded upon connection
Fix: Coinbase rejects Stop orders without a limit price. Stop orders will be placed as StopLimit orders with a limit price 10 ticks beyond the stop price. For more or less leeway, program StopLimit instead of Stop orders. Example: A Buy at 0.09305 Stop for DOGE would be placed with a limit of 0.09315.
Notice! Coinbase started migrating some accounts from CoinbasePro to Advanced Trade, whose API is not yet available. Keep an eye on email messages from Coinbase about your account status.
Wealth-Lab 8
Build 7
- 11/11/2022
Fix: The number of Display Decimals (which affects stop/limit order rounding) were not always assigned the correct value - often when more than 2 digits were required.
Fix: Assign symbols to the Cryptos Market automatically.
Wealth-Lab 8
Build 6
- 11/4/2022
Fixed streaming re-subscriptions following a socket disconnect/reconnect.
Fix: Polling for intervals less than 15 minutes may not have returned a result because the start date of the request was incorrectly calculated.
Wealth-Lab 8
Build 5
- 10/31/2022
The partial bar logic was often incorrectly removing the last historical bar received.
Handle Coinbase server-side rate limiting errors to not lose historical requests for data.
Fixed a crosstalk issue when reporting batch updates.
Coinbase static and streaming data should be reliable now for trading!
Wealth-Lab 8
Build 4
- 10/28/2022
Throttle requests according to Coinbase rate limiting. Data updates and subscribing to multiple streaming symbols will be far more reliable now. ... (but not perfect yet for the S. Monitor)
Wealth-Lab 8
Build 3
- 8/4/2022
StopLimit Order Type support added (Build 13 required).
Wealth-Lab 8
Build 2
- 7/6/2022
The field we used to determine Quantity Decimals is no longer valid, adapted to this change.
Wealth-Lab 8
Build 1
- 6/27/2022